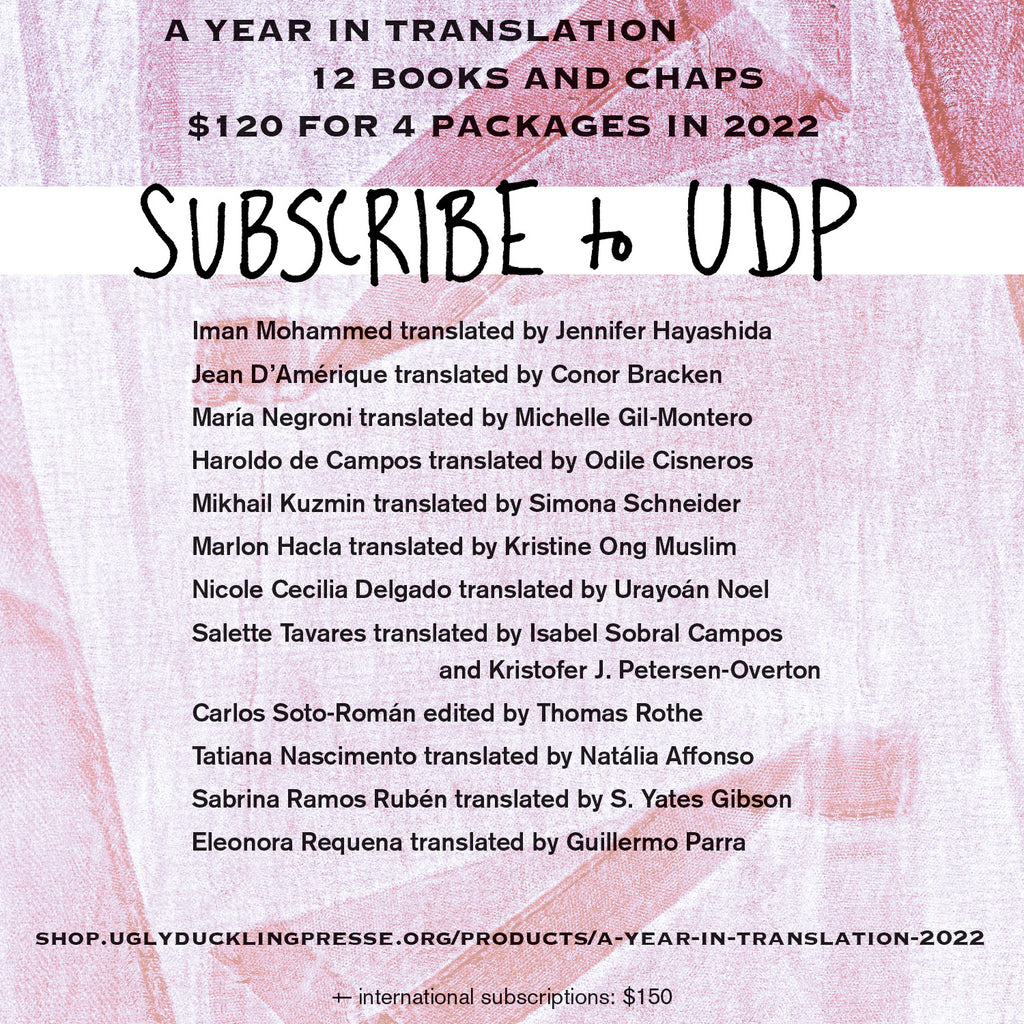 A YEAR IN TRANSLATION (2022)
$ 120.00 $ 212.00
Support our work in translation with this special subscription!
Select the options you prefer from the dropdown menu. You can purchase the subscription for yourself, or you can buy it as a gift (we'll send a letterpressed gift card and certificate to the recipient—simply enter their address in the field for shipping).
Subscriptions are sent in 4 quarterly shipments. Shipping costs are factored in to these prices. Choose "US" or "International" based on your shipping location!
Email orders@uglyducklingpresse.org with any questions.
2022's Year in Translation includes:
Behind the Tree Backs by Iman Mohammed, tr. Jennifer Hayashida

No Way in the Skin without this Bloody Embrace by Jean D'Amérique, tr. Conor Bracken

Exilium by María Negroni, tr. Michelle Gil-Montero

Galaxias by Haroldo de Campos, tr. Odile Cisneros
New Hull by Mikhail Kuzmin, tr. Simona Schneider
Glossolalia by Marlon Hacla, tr. Kristine Ong Muslim
adjacent islands by Nicole Cecilia Delgado, tr. Urayoán Noel
LEX ICON by Salette Tavares, tr. Isabel Sobral Campos and Kristofer J. Petersen-Overton
11 by Carlos Soto-Román, ed. Thomas Rothe
lundu, by Tatiana Nascimento, tr. Natália Affonso
Selected Poems by Sabrina Ramos Rubén, tr. S. Yates Gibson